For centuries people have been warming water by using the suns heat, using a variety of thermal methods and materials that have proven thermal heating to be effective and efficient. The process has always been the same, use gravity or some form of pumping system to push cold water through solar absorbing pipe work to heat water.

Over the years we have sought new ways to effectively heat water; and recently our engineers designed a rigid tube system that is 30% more efficient than existing systems, has less heat loss and is vermin and bird proof! Other panels can cool rapidly during windy conditions because the individual flow tubes aren't insulated by each other. Our Rigid tubes are connected for insulation so that they stay warm longer. This patented design also allow our panels to withstand freezing conditions better than collector with round flow tubes that cannot expand or change shape.

Along with that they are pre pressure tested in the factory and will withstand 241kmhh winds. The rigid systems are made up of long solid pieces strapped down to your roof, so no more flapping rubber tubes or peeling back in big storms.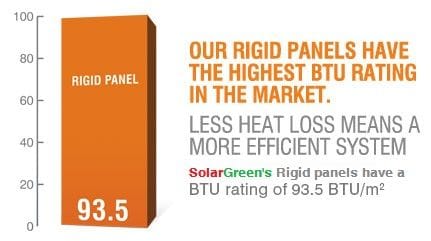 With this system all you do is set your desired water temperature and operating times and forget it. The big bonus is you can also alter your settings at any time for a quick boost of heat, or reduce the pool temperature during a heat wave.
Recent Blogs
Oct 20 2017
With summer fast approaching and temperatures starting to rise, there is no better time than now to consider a Solair World International Hybrid Universal 15U and 12U.

Solar AC / DC Air Con...
Jul 18 2016
When North Brisbane's East Coast Electroplating came to us hoping to reduce reliance on the grid and shrink its hefty demand charges, we had just the solution - a 100Kw Photovoltaic Commerci...
Join SolarGreen
for your chance to win
Testimonials
We looked around into different Companies & what they promised, panel sizes, inverters etc, Solar Green were able to instruct, give comparabili...
Greg & Nicholle

A message from our
Managing Director