Sub Floor Ventillation - EcoFan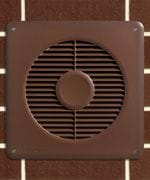 Did you know that the condition of the air space under your home can cause mould and fungi growth, increase termite activity and even cause common household allergies and respiratory problems?
Introducing the ECOFAN A three speed powered sub-floor ventillation system that removes stale, damp air from under your house.
Having poor air flow under your home provides the perefect environment for attracting termites to nest under your home, breed and eat your beautiful home.
Poor airflow has also been found to cause stale and musty odours to rise up and permeate into living areas YUCK.
You can easily improve your sub floor air quality and reduce the humidity levels beneath the floor, by installing one or more ecoFAN's! The fan is designed to be reversable so you can have one EcoFand drawing fresh air in and another atthe other end of the home exhausting the stale air. With its air high flow rate and 3 speed settings you will be able exhaust damp air from your subfloor helping to protect your family and your home.
Purchase an EcoFan Now
Features and Benefits
Highly effective removal of subfloor damp and odours
Very low running costs – continuous operation cost as low as $13 a year (based on 21c/kWh)
High flow rates
Reversible flow direction
Easy and safe to install – No electrician required
Designed to run in moist environments
Quiet operation
Can be easily painted to compliment your home
Manufactured from tough, injection moulded UV stable polymers, designed for Australia's harsh conditions
Attractive louvre design
Variable Speed operation - speed controller allows three fixed speeds selection, ensuring only the right amount of flow is set to suit the severity of the conditions
Dual functionality option to either exhaust or supply air
24VDC high efficiency electronic commutating German motor - runs 24/7
Operating noise levels as low as 33dB(A) (low speed setting).
Specifications
Throat diameter: 250mm
Motor: 30W, 24VDC
Flow rate Δp=0: Min: 275m3/h Max: 730m3 /h
Line voltage: 100-240VAC 50/60Hz
Colours: White and Brown
Warranty – 2 Years.
Recent Blogs
Oct 20 2017
With summer fast approaching and temperatures starting to rise, there is no better time than now to consider a Solair World International Hybrid Universal 15U and 12U.

Solar AC / DC Air Con...
Jul 18 2016
When North Brisbane's East Coast Electroplating came to us hoping to reduce reliance on the grid and shrink its hefty demand charges, we had just the solution - a 100Kw Photovoltaic Commerci...
Join SolarGreen
for your chance to win
Testimonials
Obviously November was a pretty sunny month, but it led the way to a great result for our Spring electricity account. If we hadn't been paying the p...
D.W. Beachmere

A message from our
Managing Director