Commercial Solar Power
Consulting, Design and Installation Services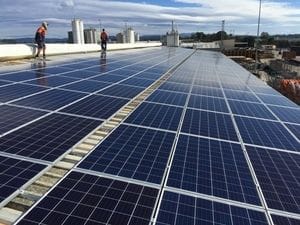 At SolarGreen, we believe going solar should be simple. And with our turnkey commercial solar solutions, it is.
Our comprehensive, customised end-to-end solutions are adaptable to any typical 50kW to 300MW solar power installation. To make the process simple for you we use our 4 step process, so you know exactly where your project is at, at any time.
1. Site Evaluation and Sourcing
We gather requirements, conduct a site analysis, determine which technologies are best for your situation, appoint our team of dedicated commercial installation engineers and negotiate prices with Panel, Inverter, Cabling & Framing Manufacturers to achieve the best possible price for your project and increasing your return on investment.
2. Engineering/Design
We design your system to minimize solar energy loss, reduce ongoing maintenance costs and maximize your systems performance lifetime. Our designers are all qualified under the Australian Governments Solar Accreditation body the Clean Energy Regulator.
3. Installation/Construction
Our solar energy installers provide onsite management, address any construction challenges, mitigate risk and ensure quality results.
4. System Maintenance and Monitoring
We offer custom maintenance and monitoring packages to ensure your system always performs at peak efficiency.
Why choose a SolarGreen turnkey Commercial Solar Power System?
Proven Track Record
SolarGreen focuses exclusively on solar energy solutions. Our experience and expertise is unrivalled in the Solar Industry. SolarGreen's group of companies has been doing business for more than 35 years, and we've installed more than 2,000 solar power systems internationally.
Easy and Efficient Process
SolarGreen is your single point of contact, which means you don't have to juggle government agencies, multiple vendors, plans, and schedules. We manage every aspect of your project, so you have complete visibility into the process from beginning to end.
Lower Costs
We find the optimal solution for your needs, and then leverage the full buying power of our company to negotiate the best deal. Our dedicated Resources & Distribution Group continually evaluates technologies, operating procedures, and policies so we can deliver maximum performance at an affordable price.
Is a turnkey commercial solar installation right for you? If you're a corporate or municipal building owner with high energy bills then the answer is "Yes"
SolarGreen, our solar power systems are "turnkey," because we combine the evaluation, engineering, procurement, construction, and monitoring services into one simple transaction.
Our typical turnkey solar installation customers:
Want to save money by eliminating their consumption of expensive power from the local utility and lower their operating expenses.
Want protection from volatile energy retailer rate increases and bring stability to their bottom line.
Are seeking financial incentives from state and federal governments; which can offset the total cost of their solar installation cost.
Are leaders in effectively managing their carbon footprint, by installing solar, therefore encouraging and promoting sustainability in their community; while reducing their large energy usage costs.
Have plenty of usable space, whether it's a ground mounted, roof mounted, carport, or tracking solar installation, the more square footage you have the better.
Installing a commercial solar power system is a complex process. Installations of this size can take time to complete the job from start to finish. With SolarGreen's Consulting & Development Services you can be sure that your investment will deploy megawatts of solar power at the lowest cost with the least risk.

Recent Blogs
Oct 20 2017
With summer fast approaching and temperatures starting to rise, there is no better time than now to consider a Solair World International Hybrid Universal 15U and 12U.

Solar AC / DC Air Con...
Jul 18 2016
When North Brisbane's East Coast Electroplating came to us hoping to reduce reliance on the grid and shrink its hefty demand charges, we had just the solution - a 100Kw Photovoltaic Commerci...
Join SolarGreen
for your chance to win
Testimonials
I had just purchased my new home when SolarGreen provided me with a professional quote. I wanted to fit as large a system as I could on my roof as ...
G.D. Nundah

A message from our
Managing Director