Your Home's Prescription For Conserving Energy

Saving money

Protecting Appliances and Electronics
Discover the secrets that utility companies have known about for years.
Energy costs are on the rise, and the use of electronics in our homes is growing exponentially. On top of that, every day, the appliances and electronic devices in our homes are under attack from surges, spikes and electrical noise. The PowerwoRx e³ is the foremost Whole House Clean Energy System available. The technology – based on the unique & proven solutions in the commercial PowerwoRx line for over 20 years – provides complete surge & spike protection, electrical noise filtration as well as the highest possible energy savings in the industry. Time to optimise your solar investment, yes please!
The PowerwoRx e3 provides:

Equipment Protection

Electrical Noise Filtration

Energy Savings
In the event of a surge or spike damaging appliances or electronics in a home where the PowerwoRx e3 is properly installed, and the PowerwoRx e3 fails to arrest the surge or spike, Iconic Energy's insurer will pay up to $25,000 total/$2,500 coverage per item.
Equipment Protection
PowerwoRx e3 is like having an ELECTRONIC BODYGUARD for your home or business! PowerwoRx technology provides Surge and Spike Suppression, a feature that will help protect and extend the useful life of your electrical equipment. A combination of the PowerwoRx e3 harmonic resistant capacitors and metal oxide varistors give the home owner the maximum protection and peace of mind available on the market today. The external lights on the PowerwoRx e3 unit provide an easy visual indicator that the system is protecting your home.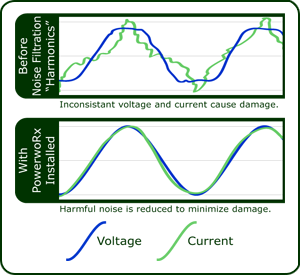 Electrical Noise Filtration
PowerwoRx e3 technology provides Harmonic Filtration which has become more important since the 1980s and almost mandatory in the 21st century due to the proliferation of computers, fax and copy machines and variable speed motors which are known as "nonlinear loads". "Nonlinear loads" ask for and use electric current in pulses unlike traditional electrical equipment. This pulse use of electrical current creates damaging noise, interference and heat. The reduction of electronic noise in your electrical system will lead to extended electronic and appliance life spans and you'll likely notice improved clarity from your television and audio systems. Also, the buzzing of lamps and appliances and overall operating temperature of electronics will be reduced.
Energy Savings
PowerwoRx e3 provides energy savings by reducing the amount of power drawn from your utility with the use of specially designed harmonic resistant capacitors. PowerwoRx e3 systems optimize your homes power factor thus reducing the amount of energy your homes motor loads use such s air conditioners, refrigerators, freezers, washers, dryers, dishwashers, pool pumps, vacuum cleaners, fans etc. Motor loads (inductive loads) inherently require more energy to do their work compared to other electrical equipment in your home.
Benefits of clean energy and solar:
Solar Power protection is accomplished by a device called a Metal Oxide Varistor. When the voltage rises the PowerwoRx prevents the spike from potentially damaging the expensive electronics including the Inverter.
Harmonics are more prevalent in a solar generated power system due to the nature of how the AC waveform is created by the Inverter. These Harmonics waste electricity, and are damaging to appliances and electronics. PowerwoRx significantly reduces Harmonics and Noise in the system.

Recent Blogs
Oct 20 2017
With summer fast approaching and temperatures starting to rise, there is no better time than now to consider a Solair World International Hybrid Universal 15U and 12U.

Solar AC / DC Air Con...
Jul 18 2016
When North Brisbane's East Coast Electroplating came to us hoping to reduce reliance on the grid and shrink its hefty demand charges, we had just the solution - a 100Kw Photovoltaic Commerci...
Join SolarGreen
for your chance to win
Testimonials
I am a very Happy Solar Customer. Have recently received my first full power bill since everything was connected and received a very nice 'Refund'. N...
K.S. Clontarf QLD

A message from our
Managing Director