Rebates & Incentives
Renewable Energy Certificates (RECs)
RECs are a form of currency created by the Federal Government under the Renewable Energy (Electricity) Act 2000 and are used to demonstrate compliance with the requirements of the Government's Renewable Energy Target (RET) scheme.
SolarGreen's Systems qualify for generous Government Rebates (conditions apply). There are 4 Australian zones, which will help determine the number of RECs available for each installation.
Click here to see RECs zones for each postcode.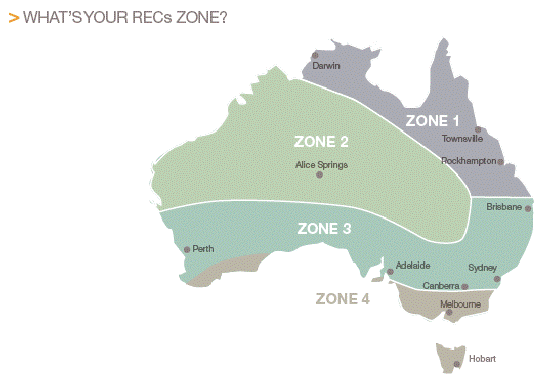 RECs Calculator
The ORER website also provides a RECS Calculator where you can work out the the approximate number of Renewable Energy Certificates (RECs) that may be received under the Renewable Energy Target Scheme for an installation.
Federal Government Solar Hot Water Rebate
The Australian Government is providing a REC rebate based on the efficiency of each indivdual Solar Hot Water System, you can usually find the REC value of these systems printed on the manufacturers brochures.
Secondly; the Solar Hot Water Rebate component of the Australian Government's Energy Efficiency Homes Program provides rebates of $1,000 to eligible applicants to install solar and $600 for heat pump hot water systems in existing homes. The new hot water system must replace an electric storage hot water system, which are the most greenhouse intensive of household hot water systems and generate the largest amount of greenhouse gas emissions.
The rebate encourages switching to alternative hot water technologies by addressing the up-front cost barriers to climate friendly systems, which also deliver low operating costs for the household. Rebates are not available for replacing older solar or gas hot water systems.
Home-owners who have not already accessed the Insulating Australian Households Rebate are entitled to apply for this rebate. Unlike the REC's scheme the home-owner pays for the complete installation cost of the system and then applies separately for the rebate.
Depending on the state or territory that you live in, you may be entitled to further generous rebates. For further information on this rebate please visit the Australian Government Department of the Environment, Water, Heritage and the Arts.