Posted in solar power
Posted by SolarGreen on 20 October 2020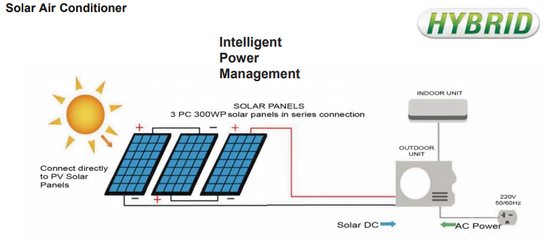 With summer fast approaching and temperatures starting to rise, there is no better time than now to consider a Solair World International Hybrid Universal 15U and 12U.
Solar AC / DC Air Conditioners use an innovative Intelligent Power Management technology. This technology integrated into the systems means that it can simply be plugged into your solar DC connection and AC power to cooling and heating your environment without needing an inverter, controller or batteries required. The system is compatible with 50Hz and 60Hz power so can be used anywhere in the world.
The solar DC power connection replaces the equivalent amount of AC power from the power grid and has the ability to cut your daytime energy costs for running to air conditioning or heating unit by up to ninety percent by utilizing the maximum amount of available solar power!

With summer fast approaching, keep the inside cool all day for next to nothing in energy costs and prevent heat build-up by keeping the area comfortable with heating or cooling available for up to 30 square metres.
SolarGreen's proven experience with installations means that we understand the important considerations which greatly assists with system design and performance.
Please click the links below to view the information brochures for each of the systems offered:
Hybrid Universal 12U
Hybrid Universal 15U

The unit can be connected to a maximum of three 300W solar panels. This system is designed for hybrid operation with solar providing most of the energy that it needs during the daylight hours and will automatically switch to the grid power connection when there is insufficient sunlight, clouds or limited solar power available.
To increase effectiveness, our team also offer solar panel cleaning and maintenance with full written reporting to get your solar panels back to maximum efficiency. Read more about this ongoing service.
SolarGreen proudly operate within the environmental sustainability marketplace and are globally recognized for introducing and delivering innovative and effective environmental solutions for challenging applications.
Contact us today for a quote or to discuss our interest free finance options tailored to your individual needs.